Conservatories
Conservatories in Dunstable
Leighton Buzzard Double Glazing supply and install a vast range of bespoke, made to measure conservatories throughout Dunstable, Leighton Buzzard and Milton Keynes. Our team of in house conservatory installation engineers have been helping property owners throughout Bedfordshire to design and install the new living space of their dreams for seven years and counting.
We have designed our full range of bespoke conservatories to complement both modern and period properties, ensuring we can provide you with a conservatory you'll love. Choose Leighton Buzzard Double Glazing for a conservatory extension that complements the aesthetics of your Bedfordshire property.
Investing in a bespoke conservatory adds value to your property, heightens security and boosts your home's energy efficiency. Conservatories are an extremely sought after feature for potential buyers looking to relocate to the Dunstable, Leighton Buzzard and the surrounding Bedfordshire area. When you invest in a conservatory with Leighton Buzzard Double Glazing, benefit from our fantastic customer care and after care service. We'll be there every step of the way, to lend our expert opinion and give advice when you're planning and choosing your tailor made conservatory.
We provide a complete conservatory service tailored to your specific needs with products of a consistently high standard, with a wide range of options to personalise your conservatory.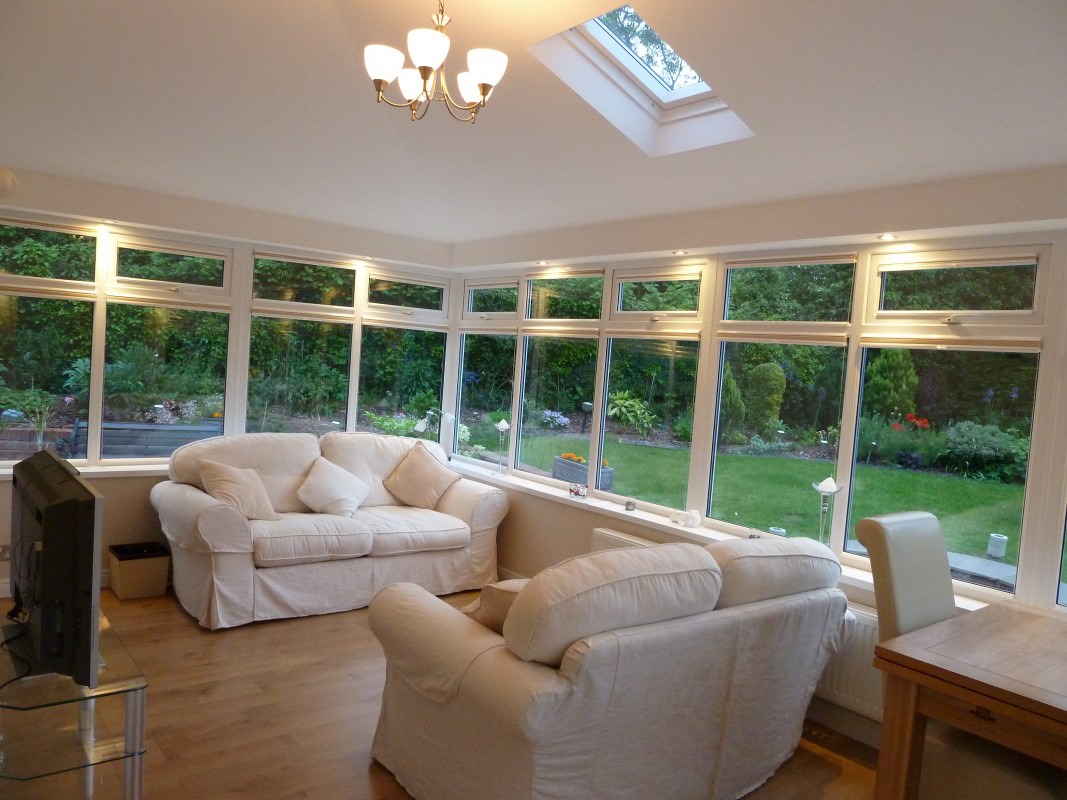 As professional conservatory fitters. We recognise our duty and commitment to ensuring the safety and well-being of you and your loved ones.  Your security is at the forefront of everything we do at Leighton Buzzard Double Glazing, and our conservatory range is of no exception.
Our stunning conservatories, manufactured only from the highest quality materials and designed by experienced professionals, will not compromise your home's security or thermal efficiency. This is down to both the tailor made design of your conservatory and the development of the Yale stainless steel locking systems we use.
Our experienced conservatory developers build all locks and hinges into the frame of your conservatory. This simple, yet brilliant idea ensures that your locks and hinges are kept away from opportunistic thieves and corrosive weather conditions.
Benefits Of Conservatories
Our conservatories gift your home with added space for yourself and your family to enjoy all year round. Due to the fact that our bespoke conservatories are manufactured from the highest quality materials, they hold tremendous energy saving and thermally efficient values. Meaning you can use the added space for almost anything. An office perhaps? Extended family dinning room? Or somewhere for the kids to play? Whatever your motives or plans, make your dream conservatory a reality with Leighton Buzzard Double Glazing.
Our close business relationships and knowledge of the conservatory industry combine to give you the most competitive price on today's market. Start your free, no obligation online quote today for a conservatory designed to meet your needs.
Leighton Buzzard Double Glazing Conservatory Installations are made Easy Because…
We offer intelligently designed conservatories. Precision engineered to utilise the key components of the high quality materials, totally secure and highly energy efficient.
Our experienced conservatory engineers ensure that the glass sealed units retain your conservatory's energy saving values.
An innovative TwinFast fixing solution creates a smooth and hassle free installation process.
Our dedicated team of experienced conservatory professionals are there from the very first phone call to the after care following your conservatory installation.
Patented time-saving innovations that offer an excellent weather proofing
A range of glazing materials, specifically engineered for use in conservatories in the UK climate from standard glass to smartglass and from poly carb to heatguard polycarbonate.
There are a range of conservatories available to suite your needs. The Loggia Range is a modern building system that provides the best way to build the best rooms, replacing traditional conservatories and make orangeries affordable.
We proudly offer two fantastic solid roof options giving a contemporary look with superior thermal performance. Both roof designs will ensure you can utilise the added living space a conservatory brings you all year round.
Our conservatory designers can fit bespoke windows into existing flat roof or any extension, orangery to create the feeling of space and maximise natural light entering your property.
LivinLight adds and insulated electrical housing system to the center ridge under-cladding of a glazed roof, enabling you to install lights in places you would not normally be able to; giving your glazed extension a more 'roomlike' feel.
If you're interested in one of our made to measure conservatories for your Bedfordshire property, why not start the process with a no obligation online quote? Generate your free online quote in a matter of minutes with our quick and easy to use online quote engine.
Alternatively, why not use our online contact form or give us a call? Our in house team of conservatory experts are only too happy to tell you more about product range, talk you through the installation process and even provide you with a free quote over the phone.
Celsius Brochure